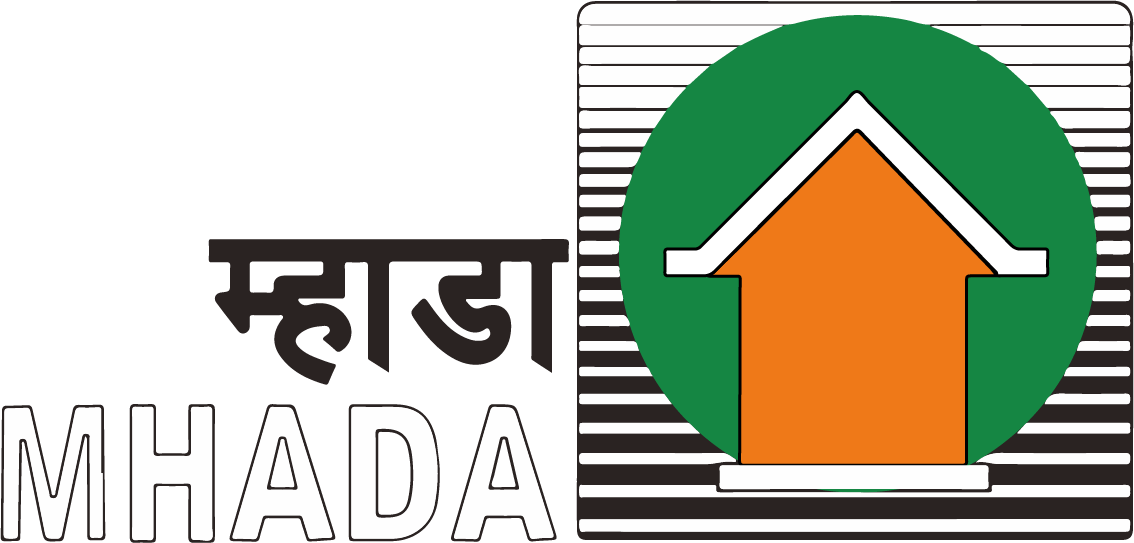 FAQ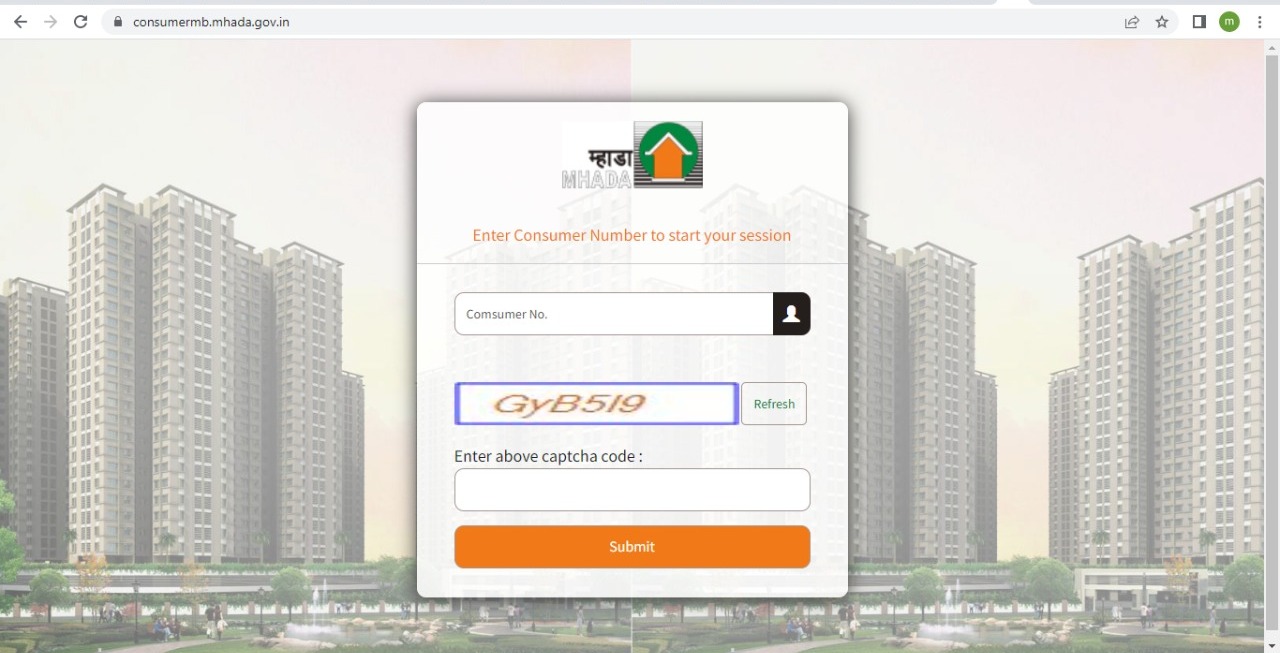 Insert your consumer number, given captcha and submit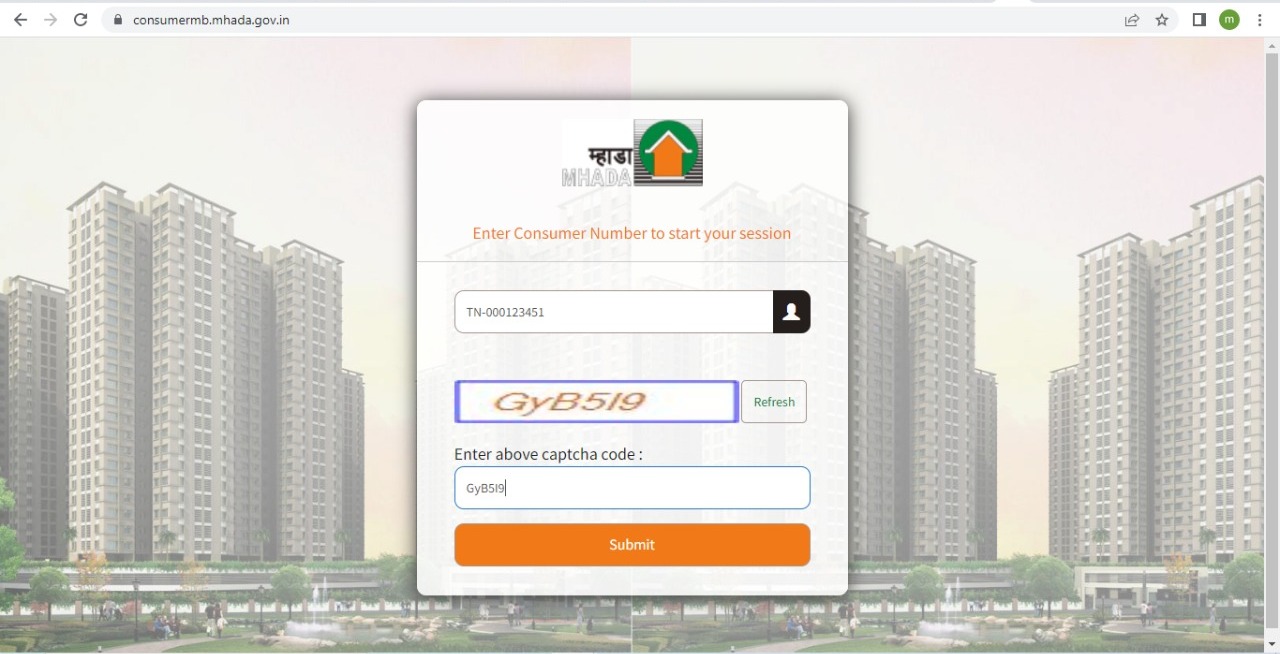 You will be redirected to your Billing& reciepts page.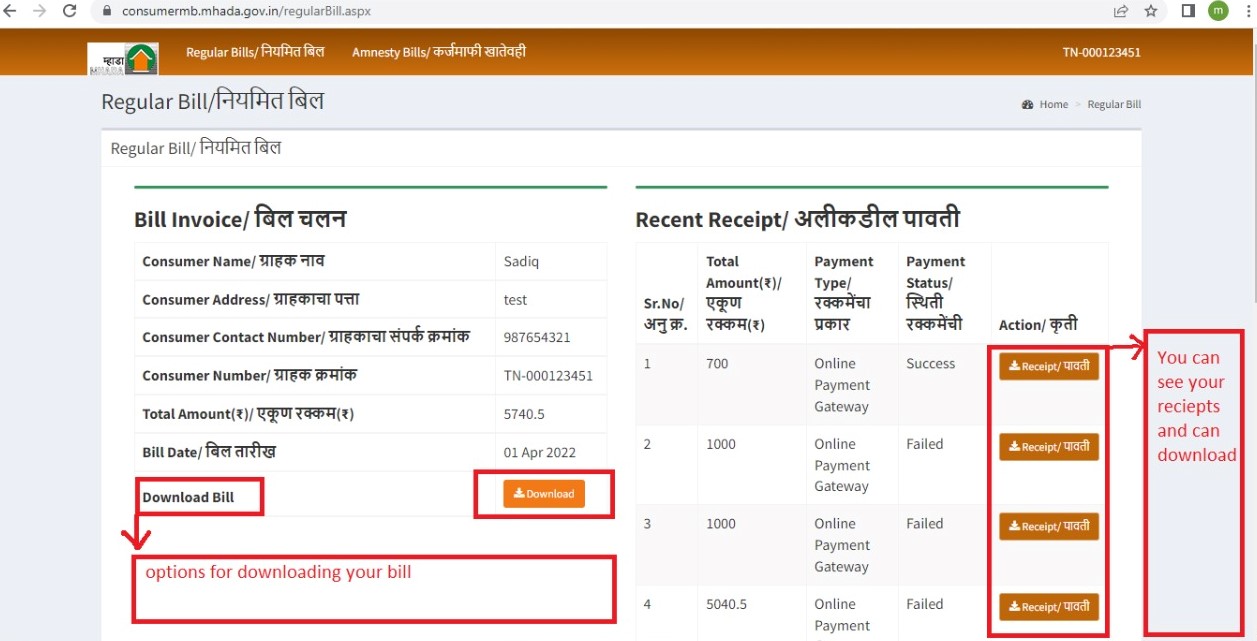 Scroll down you will see the bill and amount to be paid.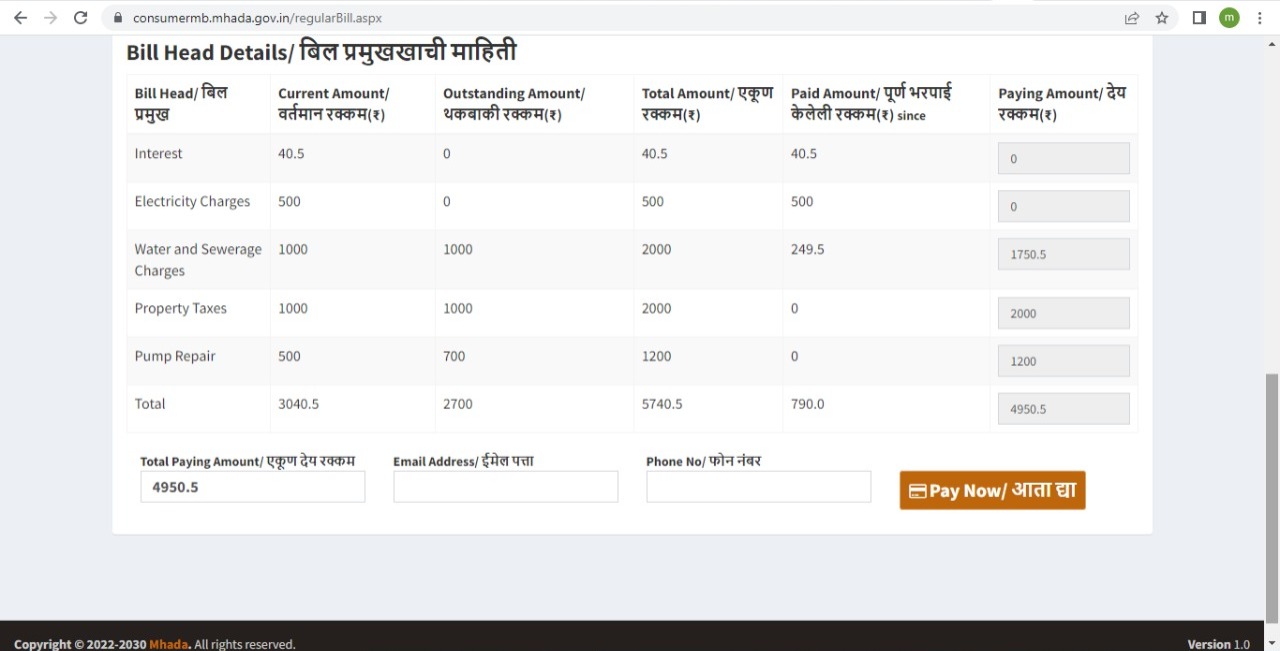 If the payment is not done and the network (Internet ) is lost the reciept will not be generated fo the same and can do payments after the network is back again and reciept will be generated..
If the payment is made and the network is down in the meantime, you can see that the payment has failed (if the money has not been deducted from your account, it means that the payment has not been made and it has failed).
If the payment is done and the network is lost in between you can see the payment failed (if your account is debited and the payment status is failed the amount debited will be refunded in 7 working days and you will get the reciept with paymet failed status within 1 hour of time).
You can See your status in this page Itself for Payment failed , the reciept which you will download which is failed (will show payment failed wihin the time of 1 hour ,check if the payment deducted are refunded in your bank within 7 working days ).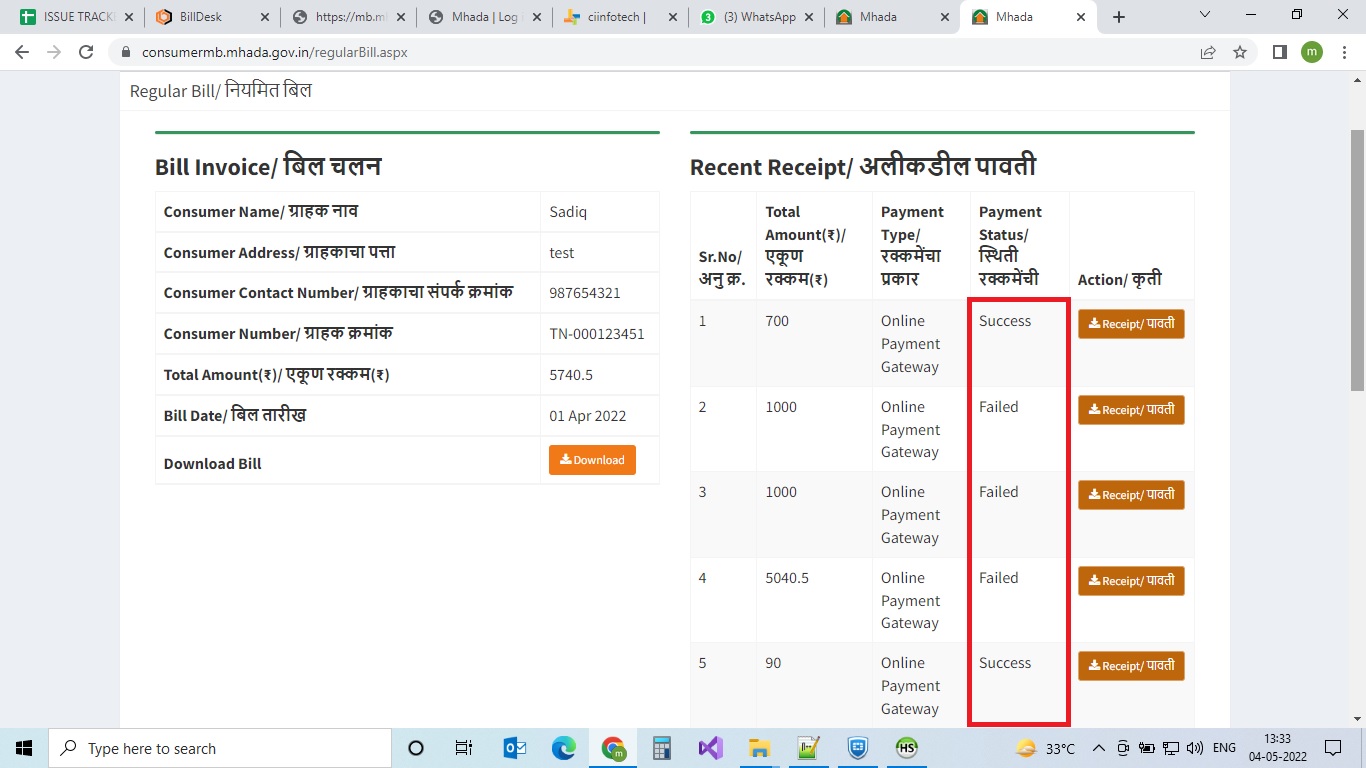 You Can see your reciepts and can download (logging in steps are provided in the 1st question of FAQ).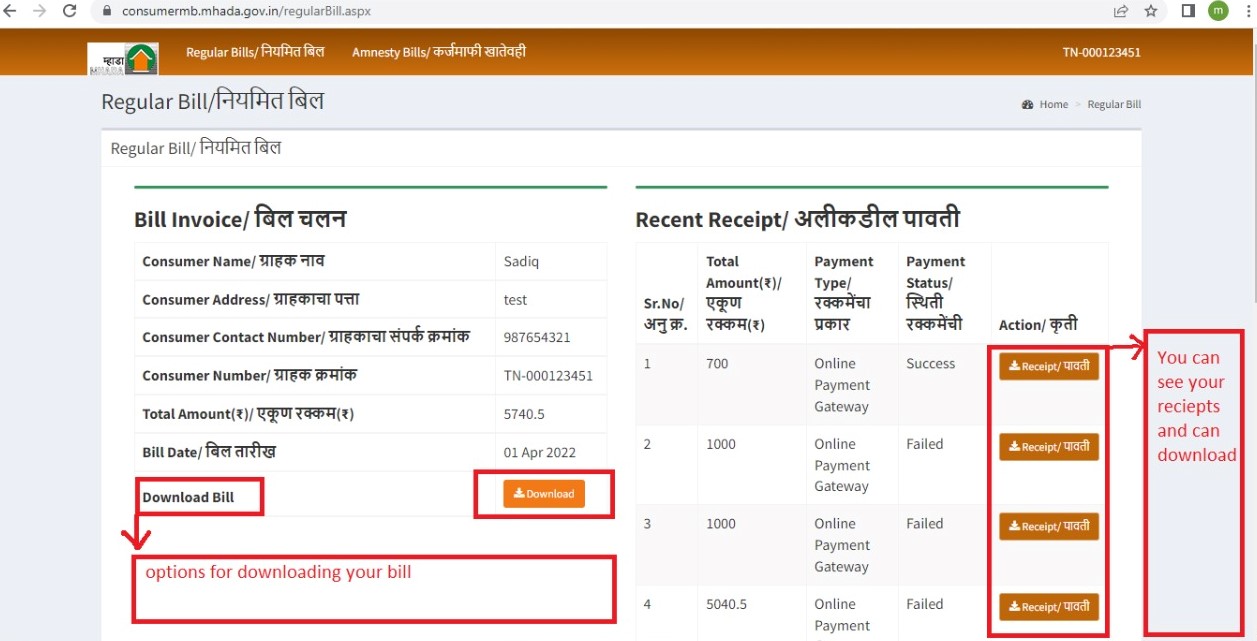 If your amount is debited and payment status is Failed you will refund within 7 working days , you can pay again after one hour of payment failure status(if the payment was failed ).
There are Debit card/Credit Card payments, NEFT, Instant, Net Banking ,UPI payments
Login into your consumer portal that is https://consumermb.mhada.gov.in, enter your consumer number you will get to see your bill to the left and payment receipt to the right for the current month bill.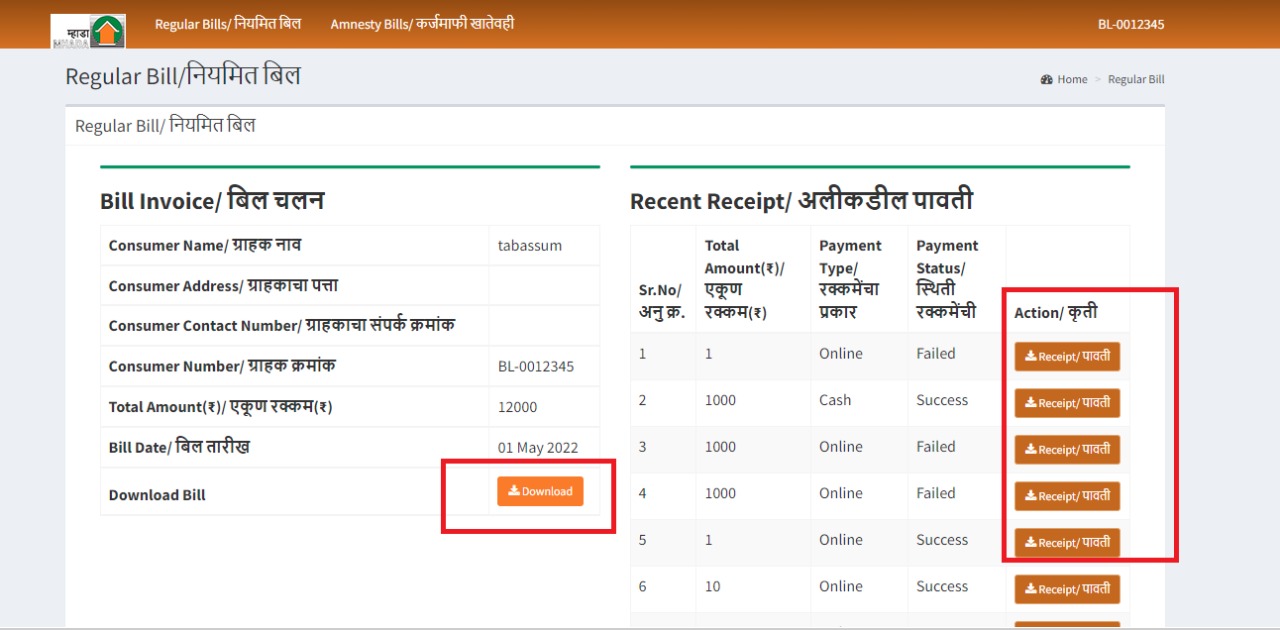 You need to contact your respected area RC, if your issue is not resolved please refer the escalation matrix.
RC->EM->Deputy CEO.
Interest is calculated on outstanding arrears @18% pa on regular bill and 8% pa on amnesty bill.
Advance payment is only allowed when outstanding dues are cleared. Login into your consumer portal that is. https://consumermb.mhada.gov.in , enter your consumer number, if all dues are cleared then you can make advance payment.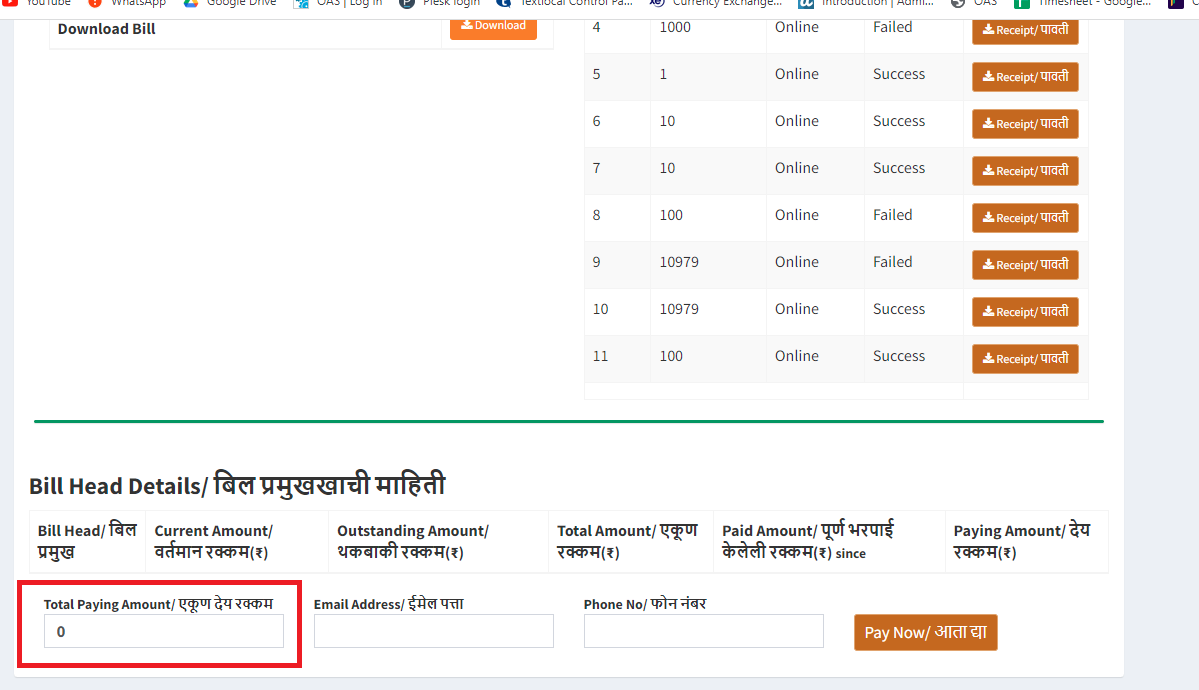 No ,they do not accrue interest.
Amnesty bill Interest calculation Amount and Interest till date is shown in bills online ,below is an example so that questions from tenants can be answered how Interest has been calculated

Logic : Simple Interest is to be recovered @8% per annum from 1st April 2021 on all installment

Example Say Total Amnesty payment is Rs 100,000/- ( one lakh) and no installment is paid , so breaking in to 10 installment payable each installment is Rs 10,000( ten thousand)

If payment is to be made today ie 13th June 2022 Interest calculation as under

No of days overdue

1st April 2021 to 31st March 2022 = 365 days
April 2022 = 30 days
May 2022 = 31 days
June 2022 = 13 days

Total days overdue = 365+30+31+13 = 439 days

Per day Interest calculation
Installment amount × 8% Interest ÷ 365
Ie Rs 10000 × 0.08 ÷365
= Rs 2.19

Total Interest till date(13 June 2022) per Installment is
2.19× 439 = Rs 961.41

As all unpaid installments are overdue by same amount of days as on today , Total Interest payable is
RS 961.41 × 10 installment = RS 9614.10

AS ON DATE 13th June 2022
One installment plus Interest amount = 10000 + 961.41 = 10961.41

If entire Amnesty amount is to be paid it will be
All Installment amount plus All installment Interest
= 100000 + 9614.10 = Rs 109614.10

Please note if calculation is made tomorrow (14th June 2022) Interest will be payable for 440 days/व्याजाची गणना नियमित बिलावरील थकबाकी ऍनेस्टी बिलावर @8% दराने मोजले जाते.
You can Pay the payment using online/Cash/Demand draft/RTGS / UPI/ Online banking

The consumer has to pay each Installment Because The Bills are been Generated For all 10 Installment So the consumer has to pay Installment by Installment one by one each or make the DD payment of total amount of all installment Pending to be paid with Interest calculated from April 2021 till date .
Yes , You can make part payment Whatever amount the consumer is willing to pay partly Online / Cash / Demand Draft + Interest calculated Till Date.
Yes , you can do payment of multiple bills as per generated Bills in Amnesty or Regular ?
go in consumer login and fill all the details (email, contact no , payer name , phone no , total paying)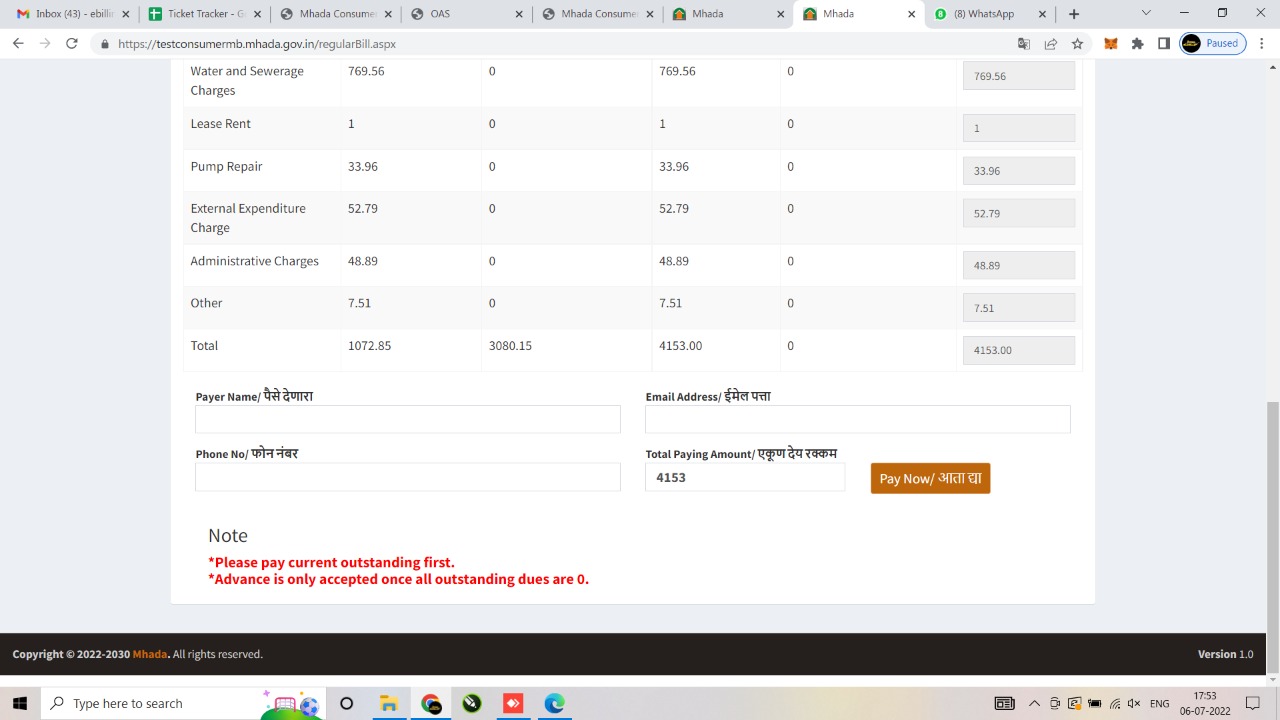 You can pay by what ever means required card / UPI/ wallets / Net Banking / Rtgs/ Neft/ IMPS
Payment gateway , rtgs for challan generation(Click on generate challan)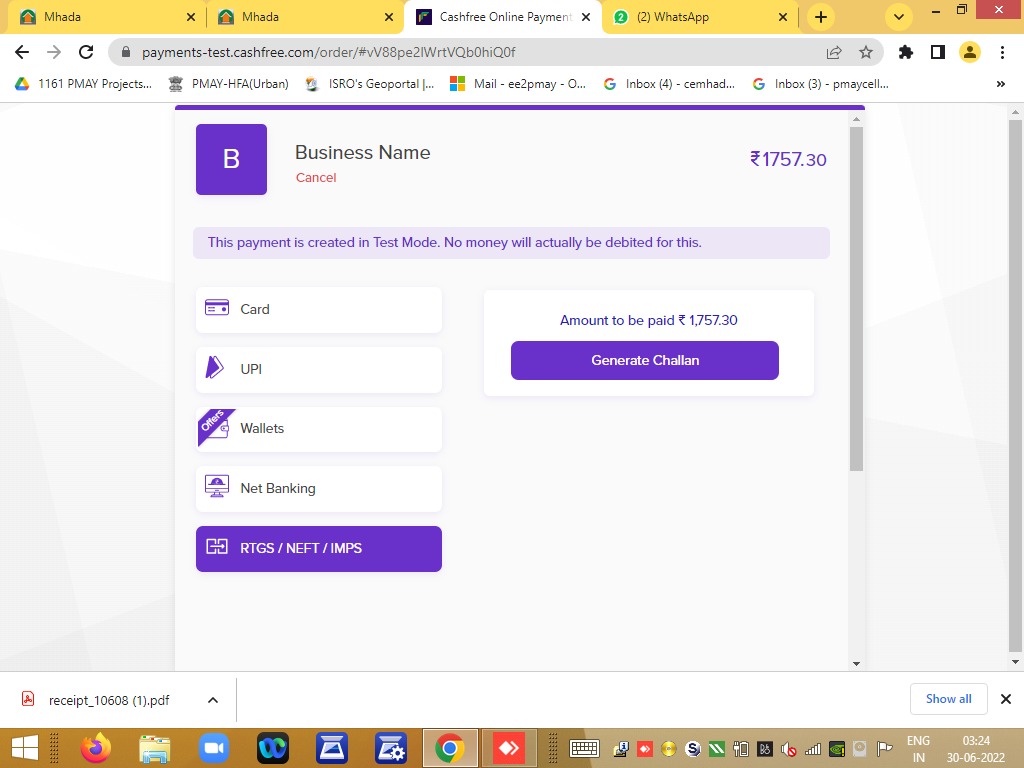 scroll down after clicking on generate challan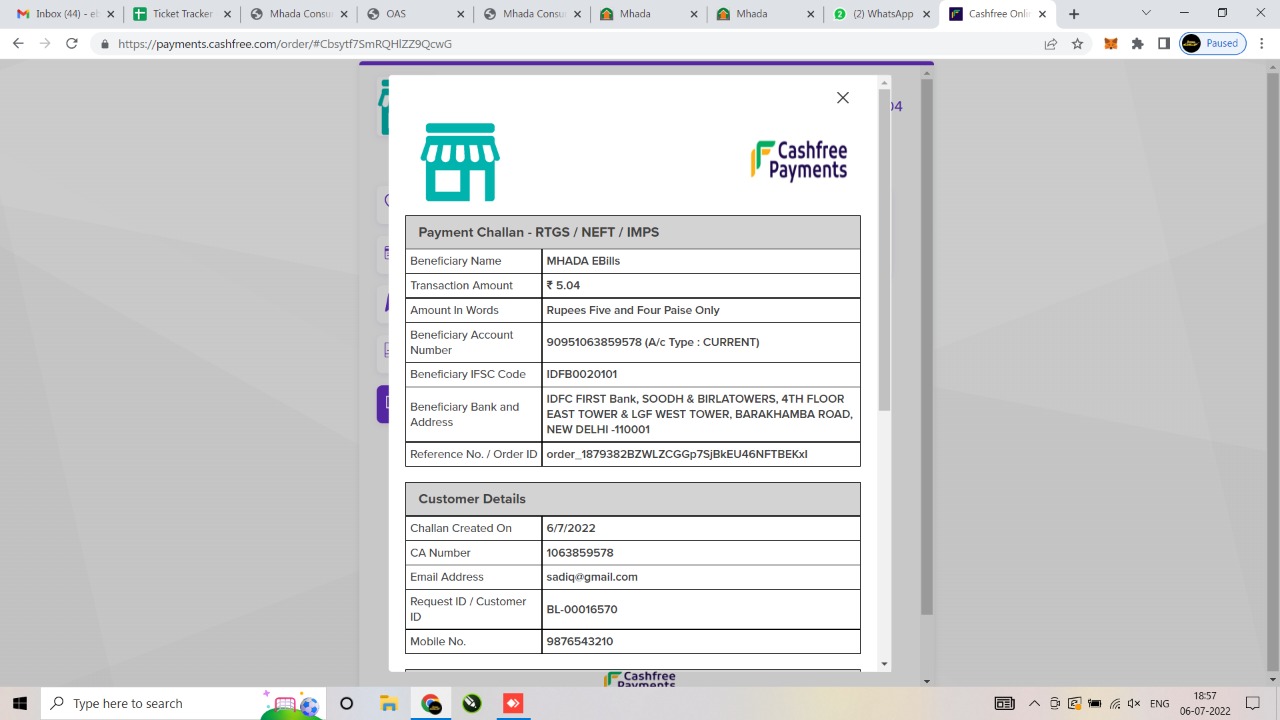 Then click on save as PDF for saving it in your system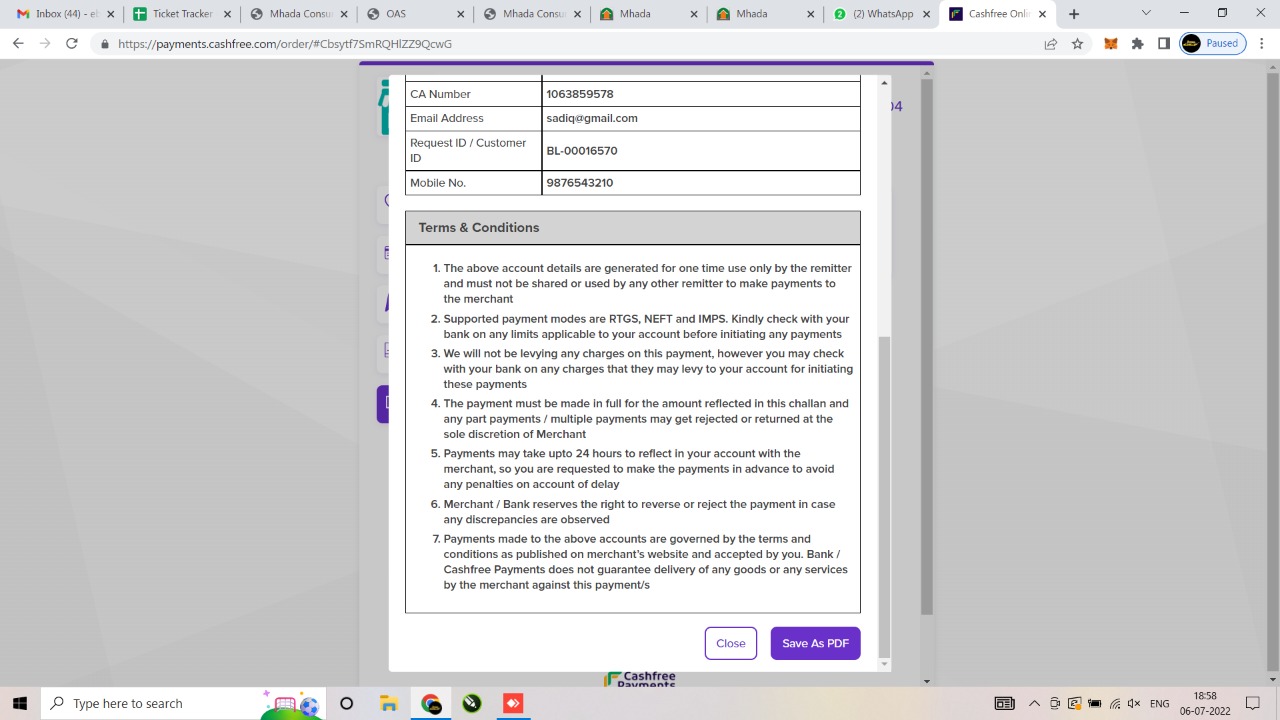 This option will occur then select in destination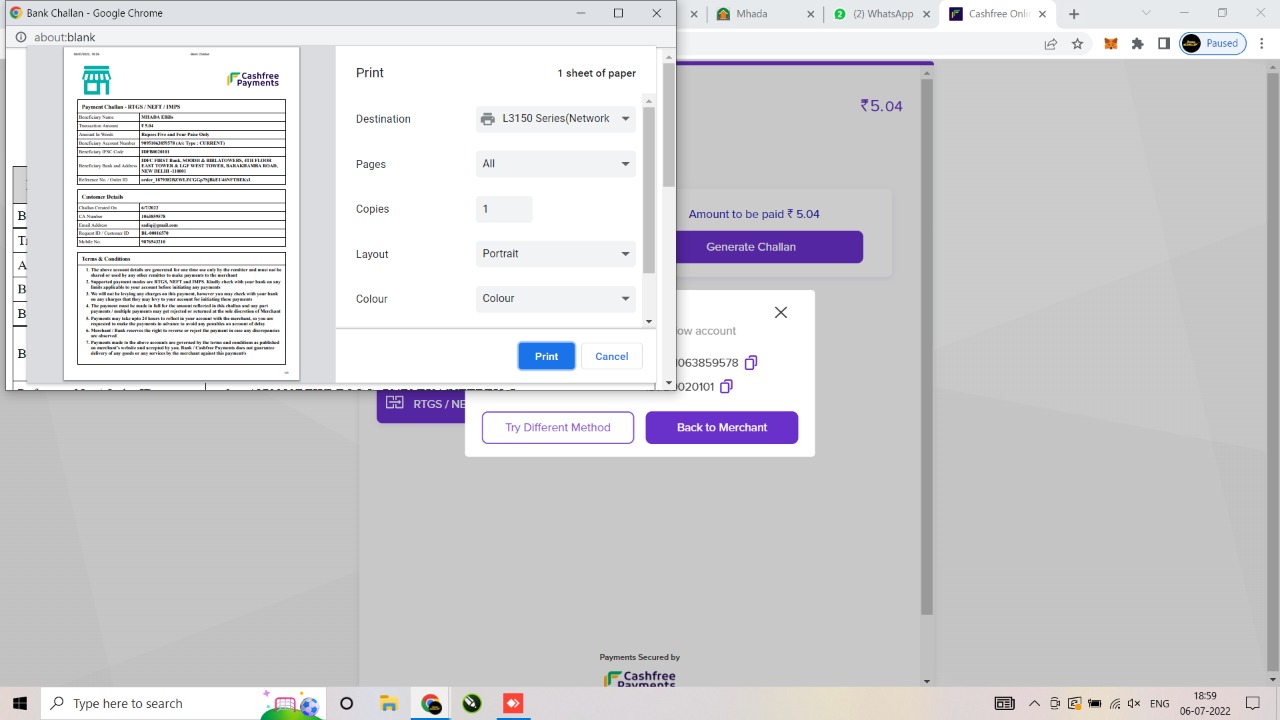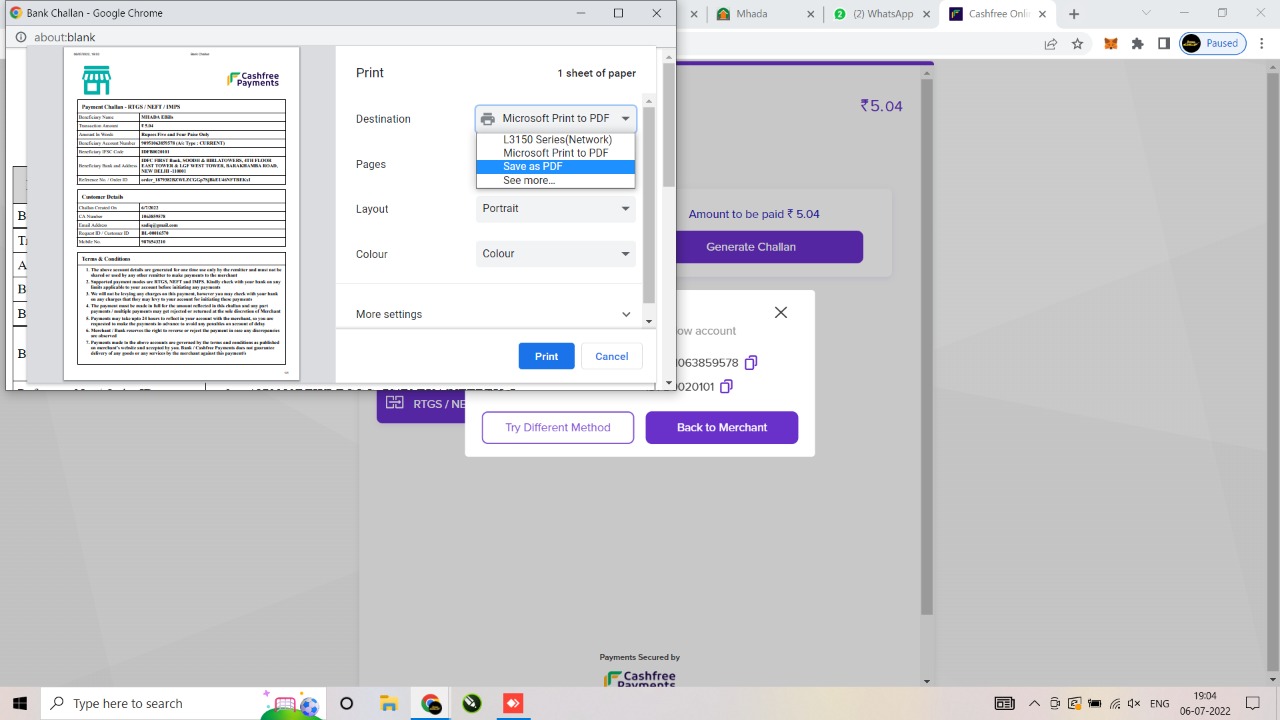 save it after choosing the save as PDF option in Destination and click on save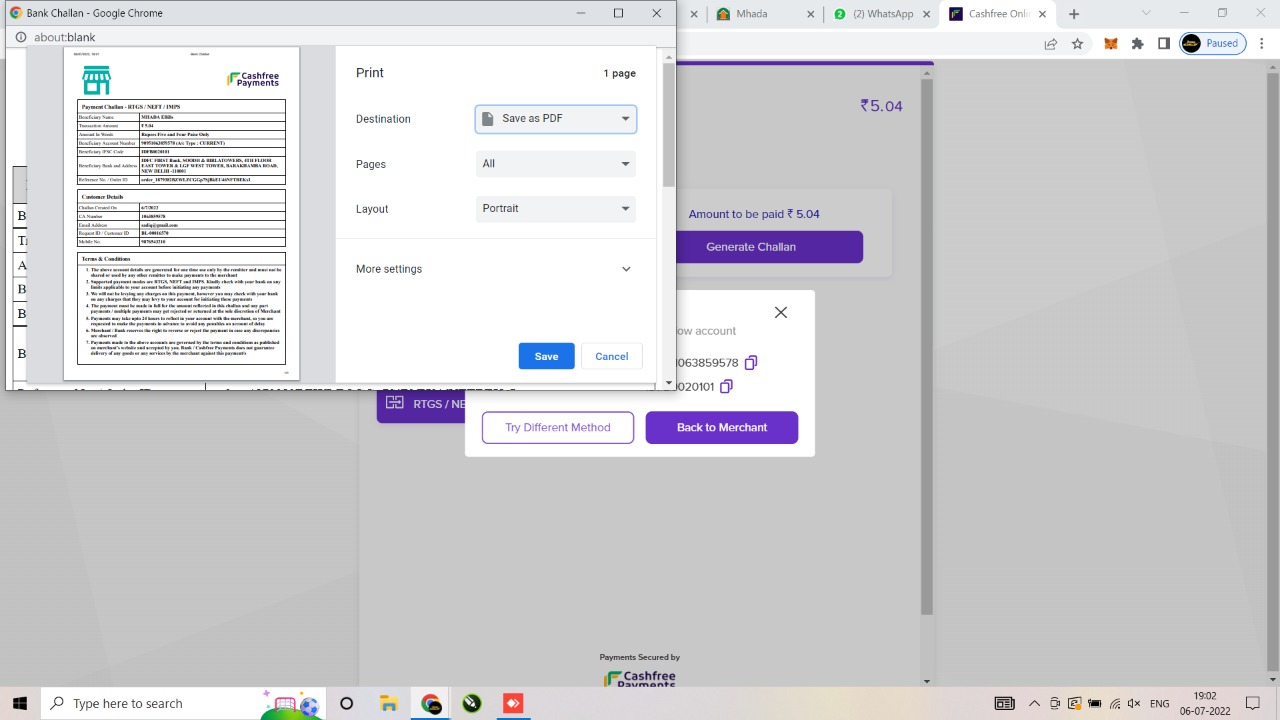 it will direct you into your destination folder where you want to save on your system And give the name of PDF and save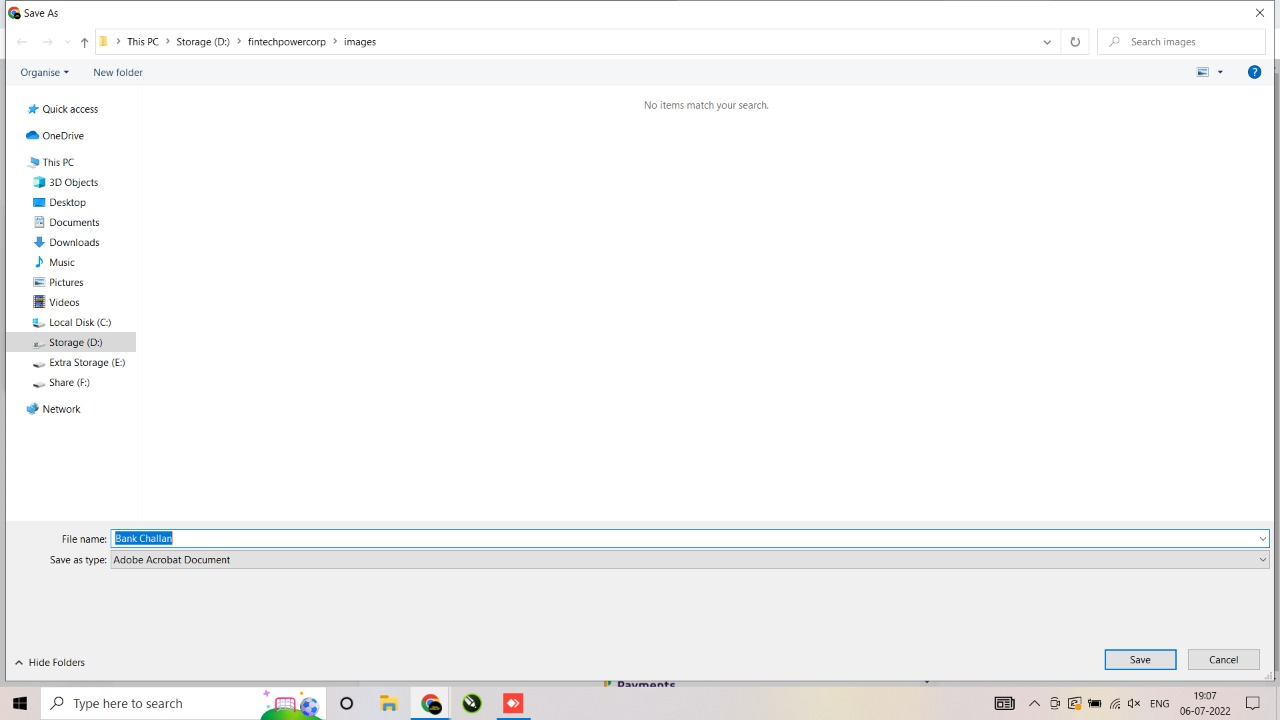 Back to merchant after your challan is been saved on your system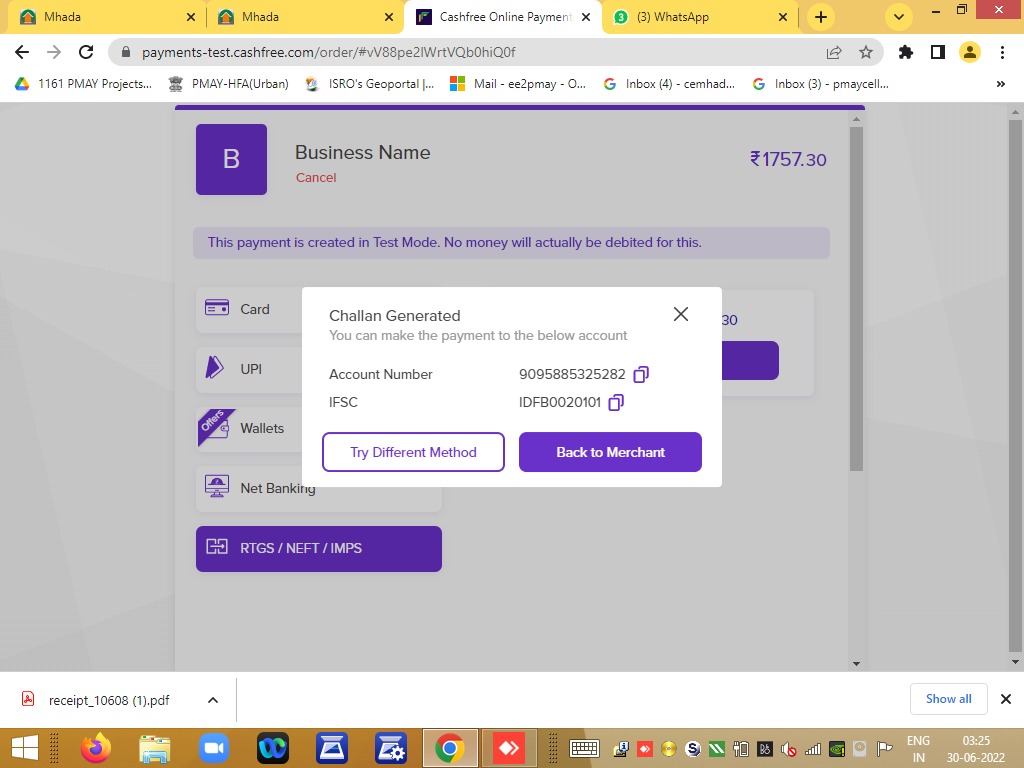 after going back to merchant it will show that your challan is been generated and will show payment in process , you can go in your respectives banks with the copy of the generated Challan and do the necessary payments through NEFT/ IMPS/ RTGS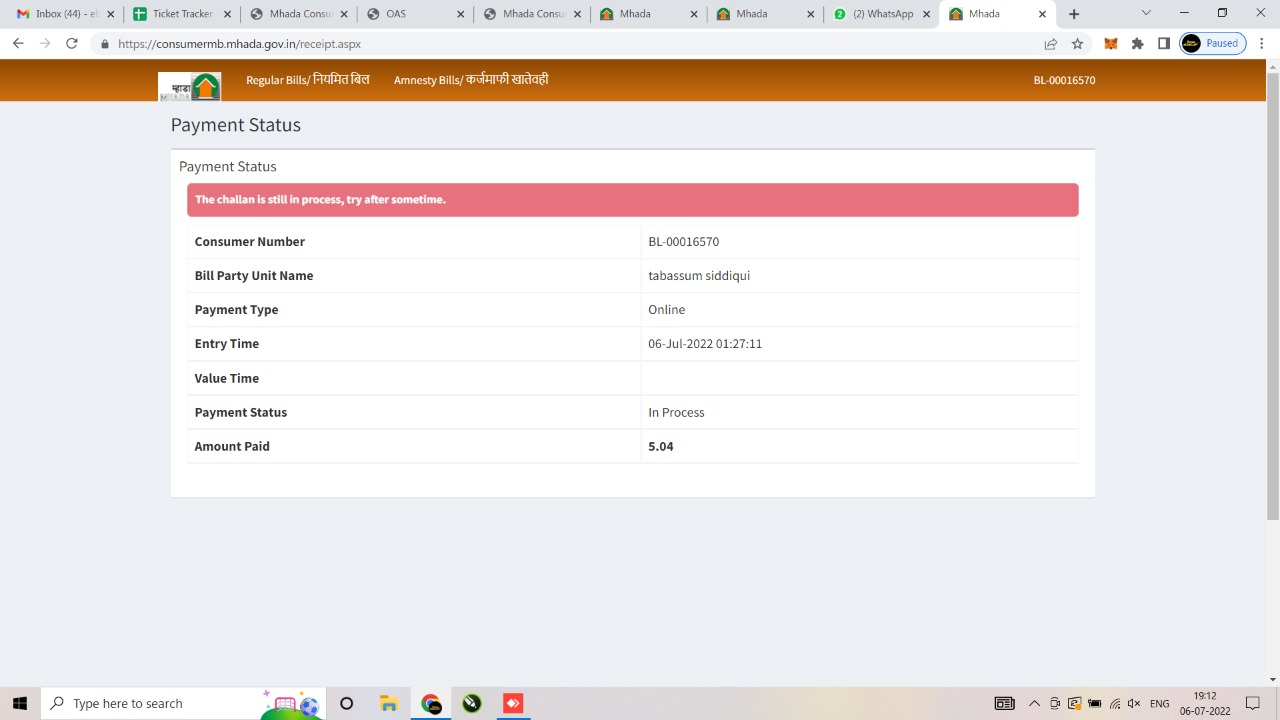 The Interest is calculated for 1st April 2021 Till date for Amnesty payment.